BREAKFAST & BRUNCH
Discover all of the marvels in our menu from 7:30 am to 12 noon
There's nothing quite like breakfast time. As the rising sun shines down, it imbues you with its energy. Its glow lingers inside you and fuels your thoughts all day long.
It's a time with its own rhythm that no one knows and no one can picture better than you. Cradling a nice, warm cup in your hands. Flaky croissant crumbs scattered across lightly coloured marble. White milk and the vivid hues of mixed berries. The enticing brown rings spreading across deep black coffee after you blow on it. Lay the foundations for a fulfilling day by running your eyes over our continental breakfast selection and indulging in a little satisfaction for all the senses.
The comforting sight of an immaculately set brunch table can really put the mind at ease. There's something special about the white spaces between the items, combined with refined latte hues and bright orange egg yolks, not to mention the smell of warm, fresh bread.
Time can move as quickly or slowly as you like here at Laltro. Meet up with friends or get cosy with your partner and let your love shine through.
SEE OUR MENU
OUR SPECIALTIES
A delicious brunch is an amazing way to start the day, not to mention a truly unique experience here at Laltro. We serve it every day, with an array of sweet and savoury creations that'll put a spring in your step.
Did you know that we make all of our cakes and pastries ourselves? Every morning, our pastry chef prepares fabulously fresh cakes, croissants and other sweet treats.

Freshly cooked right before they're served, our eggs come with the finest traditional products from Parma and more besides. Lovingly made with the utmost care, our coffee and cappuccino are also exceptional.
Nothing compares to our croissants and mini cannoli, which we fill on the spot. If you're looking for a genuinely inimitable experience, try the croissants with our pistachio cream filling.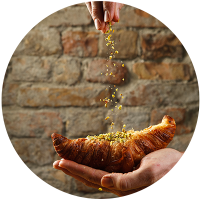 JOIN US FOR AN INCOMPARABLE EXPERIENCE
Tap into the rhythm of life and go with its flow