DELI & SHOP
From 7:30 am to 11:30 pm, sample superior products from Parma, buy them at the counter and then enjoy them at home
You need to make the most of your time on this planet by sampling all sorts of different things. Why not spend a little slice of your life among our choice range of premium products? They come in slices, too.
Masterfully made thanks to the know-how built up over countless years, they present a host of sophisticated taste sensations. Prepare your palate for an enchanting experience involving consummately cured meats such as culatello, which presents the ultimate blend of balance and harmony, flavour and time.
It's just one of the princely products that reign supreme here in Parma, alongside other divine deli meats such as pancetta, coppa, salami and Prosciutto di Parma adorned with a ducal crown. Remaining in the realm of regal products, Parmigiano-Reggiano is another of the jewels in our crown. Treat yourself and eat like a king or queen.
SEE OUR MENU

OUR SPECIALITIES
Superb deli meats such as Prosciutto di Parma, Culatello, Fiocchetto and Salame Felino take pride of place alongside Parmigiano-Reggiano and other magnificent cheeses.
As well as enjoying it here, you can also take the Laltro concept home with you thanks to our shop. Why not purchase the products you loved the most as a treat for yourself or a gift for others?
Take your pick from a selection of locally sourced items made by Parma's top producers, who've earned the city an international reputation with their first-rate food.
Everything's made in artisanal processes here. If you're looking for some sweet treats to take home with the rest of your shopping, check out our home-made pastries.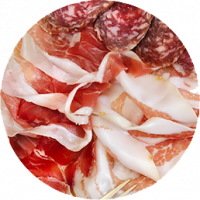 THE PARMA EXPERIENCE IN YOUR OWN HOME
Traditional flavours to take home or have delivered to your door