OYSTER BAR & APERITIFS
From 4:00 pm to 11:30 pm, discover a unique experience that revolves around bubbly traditions and sophisticated seafood
As the scarlet sun sets over the historic buildings in Parma's old town centre and conjures up images of yesteryear, step inside Laltro for an experience that's original in more ways than one.
Amid the sounds of glasses clinking and cheerful chattering, it's easy to envisage yourself in the sparkling society of the Belle Époque. Echoes of the distant sea may also reach your ears.
Oysters, tartare, other raw specialities and sublime sparkling wine all add to the timeless atmosphere, drawing you in like a siren song.
If you're not fond of fare from the sea, raise your eyes and look to the bounty of the land, which slowly gets better over time. As well as the boundless wonders of Prosciutto di Parma, Parmigiano-Reggiano and the deli meats that have made this part of the world famous, there's nothing like a glass of red wine to remind you how much the land has to offer.
SEE OUR MENU OUR SPECIALTIES
A unique experience awaits you in Parma, in the shape of aperitifs with a sophisticated Oyster Bar service and Champagne.
All of the oysters and raw seafood specialities come from the kitchen at La Forchetta: our restaurant across the street, which is famous for its fish dishes. Champagne complements them perfectly, in a real pearl of a pairing.
As an alternative to stunning seafood, at Laltro you can also work up an appetite by asking for your drinks to be served with delectable traditional deli meats from Parma.
If you don't want the good times to end, why not ask our bartender to whip up some cocktails? There's no finer way to extend the experience.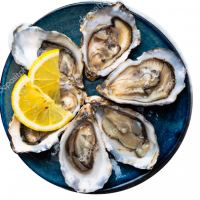 JOIN US FOR AN INCOMPARABLE EXPERIENCE
Tap into the rhythm of life and go with its flow